Eurythmy
4

you
Vision and History
Eurythmy4you develops exercise programs for body, soul and spirit. These promote your health and your inner development - so you can better face the challenges of everyday life and the pressures of our time.
We are convinced that everyone can discover eurythmy directly and experience its potential. With our user-friendly videos and online courses, we want to encourage you to practice for yourself and make the beneficial, invigorating and health giving effects of eurythmy tangible.
We have the goal to make these videos available and usable worldwide in English and German. Other languages have already been added and more will follow.
The first for years
Theodor recalls: It was Sunday when we went online on October 14, 2017. Our starting point was "The Power of Health". Our goal was to develop a course with Rudolf Steiner's exercises against nervousness based on the eightfold path. We didn't want to head too directly towards our original goal, so we first shot 8 videos about the temperaments with Giovanna and Franco. In German and Italian! We went on to make about 30 videos on the copper rods exercises, over 20 videos on the basics of vowels, and all of the videos for the "Basic Exercises" and "Upper and Lower Systems". For an entire year, we published a new eurythmy video every week on our website and on YouTube!
It wasn't until the summer of 2018 that we began to tackle the subject matter of our original goal behind forming Eurythmy4you and shot the videos for the new ABSR stress release courses with Annika, Pascal, and Harald. In 2019 and 2020, the HSP course was added as the first evolution of this work. It took many months to add visual animations to all of the exercises in the ABSR and HSP courses. This material then became the First Aid Kit, which we published as individual videos one after the other, three videos a week on YouTube, for an entire year.
In order to come even more directly in contact with you, we decided to begin offering live webinars starting spring 2020. The first idea we had was to offer a live course with tools to help with jet lag.
When lockdown began in March due to the Covid19 decrees, jet lag was out, but we were ready to go! Instead, we streamed webinars on Mondays and Fridays on how to strengthen the immune system. After Easter, the ABSR course was also added on Sunday. It was a fantastic time! With three live webinars a week each in German and English, we were suddenly in contact with a large number of people. The contact with you strengthened, enriched and encouraged us.
Since 2018 we have been holding a summer week once a year to meet you personally and to build up a network of cooperation. Each time there were different exciting topics and we really enjoyed it.
For our 2020 summer week, the topic was the eightfold path. Immediately afterwards we ran the path as an online webinar for a week. After 9 months of intensive, technical work, in which Theodor and Tobias went through each of the webinar videos, cutting and editing them together, finally -- our goal, with which we had once started, was completed at Easter 2021. The "The Eightfold Path" course went online and has since then been available to everyone who would like to know more about Rudolf Steiner's exercises for the days of the week in connection with the Buddha's eightfold path.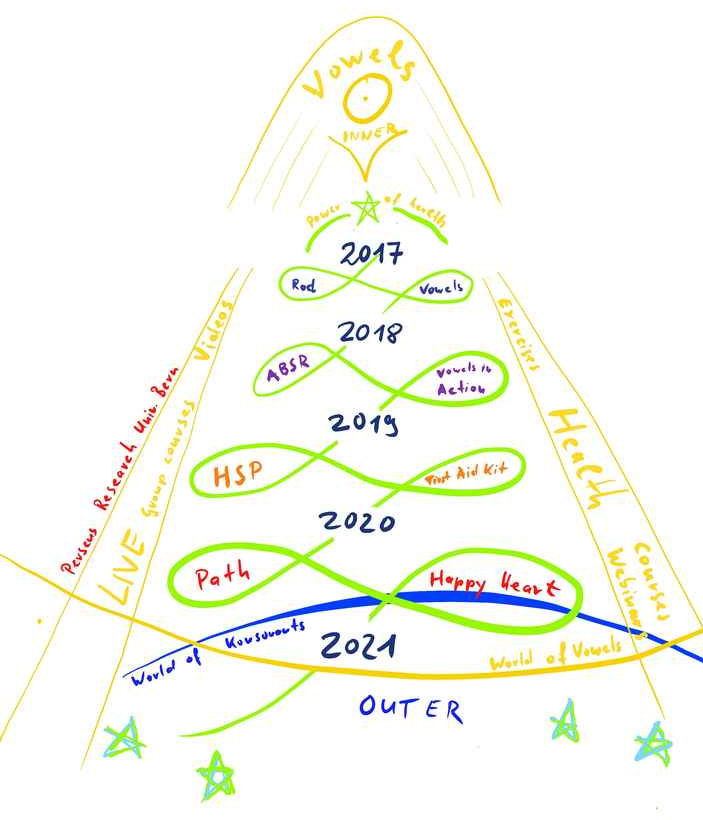 The first four years are over.
Now that the large group courses have been completed, we are in the process of simplifying the material from the live webinars. From the abundance of webinar recordings, over three hundred shorter and longer videos have been created, which can be viewed in small sections or as a whole, as desired. In this way eurythmy can be more easily used for individual well-being.
Eurythmy4you can now expand even further from this strong foundation. A key vision in our heart is to open up the world's exposure to eurythmy by translating our materials into other languages. In addition to the online programs, the path also leads to face-to-face encounters. This ranges from local events to the introduction of our programs in a business context.

If you would like to support us in these efforts, you will find a link to donate in the footer of our website.
Our Vison
Our time is characterized by rapid technical developments. A deeper understanding of the human body can provide an important balance to artificial intelligence and robotics. Millions of highly intelligent young people spend their creative energy on the advancement of technological development. These efforts aim to control not only the physical world, but also the human creative forces. 
Simultaneously millions of people are developing new personal connections to their body intelligence. This happens through tireless practice on skateboards, in climbing, the martial arts, hip-hop, in mindfulness trainings, in meditation and many other areas. We are expanding our abilities in dimensions that were unimaginable 50 years ago.


John the Baptist (Leonardo da Vinci)
Technology and art develop in the polarities of the super- and sub-sensible (1). Leonardo da Vinci used his alternating interactions with art and mechanics to develop his imaginative faculties. During the birth of electronics, Beethoven developed new forms of musical expression. As the foundations of computer technology were being laid, Rudolf Steiner extended the subtlety of movement through eurythmy.
Each time, in polarity with technological advances, an art form develops in such a way that it becomes able to express the individuality of the human being as imagination (Leonardo da Vinci's pictures), as inspiration (Beethoven's music), and finally as intuition (the new art of eurythmy). These artistic creations form a counterbalance to technological development.
Eurythmy4you is committed to ensuring that the necessary eurythmical knowledge is available as widely as possible, and we would be happy if you came along and participated.
Elaborated print version (Download)

__________________________
(1) The Leonardo da Vinci principle has been discovered by Prof. Dr. Horst F. Wedde (5.10.1940 - 7.1.2018). In the article below he describes the challenges of modern computer technology and its relationship to art.
Support Eurythmy4you

After several years of working out the basics for the Eurythmy4you concept, we are pleased to see the growing demand for our courses and offers. Nevertheless, our income is far from covering the costs incurred and does not allow for future development.
There is still a lot to be done! We wish to improve Eurythmy4you, provide more translations and build a sustainable, worldwide network. Every donation helps us.
Do you have any other ideas how you could support us? We look forward to hearing from you!